The F-35A jets of the Luftwaffe (German Air Force) will be based in Büchel, in the Eifel region in western Germany.
The Bundeswehr (the armed forces of the Federal Republic of Germany) has decided that all new F-35A stealth aircraft destined for the Luftwaffe (German Air Force) will be stationed at Büchel Air Base.
Quoting a Bundeswehr spokesman, Südwestrundfunk, a regional public broadcasting company serving southwestern Germany, reported that the 5th generation aircraft will be based at the airfield in the Eifel region of western Germany after the planned renovation works of the Büchel runway. The construction works, costing around 170 million euros, should be completed in February 2026.
According TOSa new 11.5 km outer fence, worth 18 million euros, has been erected around the air base to prevent protesters, who repeatedly climbed the old fence, from breaking into the military installation.
The decision to base the F-35s there is not surprising: Buchel is the base of the Tornado IDS of Taktisches Luftwaffengeschwader 33 (TLG33) and, above all, according to several reports (never officially confirmed), it is also the base where US nuclear weapons needed to meet the NATO nuclear sharing agreement, are stored.
By 2030, the nuclear strike mission will shift from the Tornado IDS to the F-35A, the latter of which can carry the B61-12 bomb in the internal weapons bay.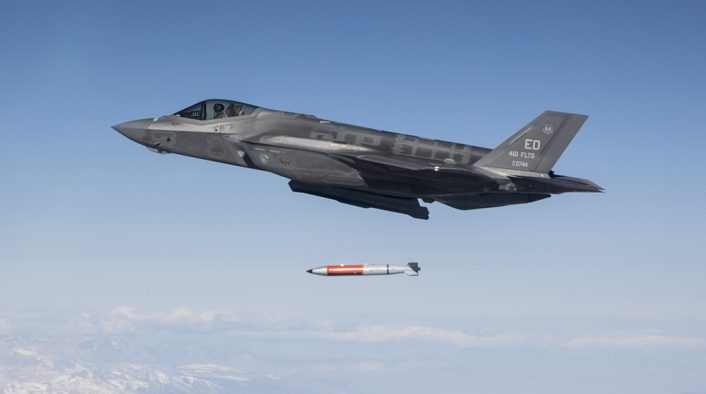 A total of 35 Lightning II aircraft will be used to cover the tasks currently assigned to the Tornado IDS, including the nuclear strike role, while a number of Eurofighter ECR, an Electronic Combat Reconnaissance (ECR)/Suppression of Enemy Air Defenses (SEAD) version of the Eurofighter Typhoon which was first announced by Airbus in 2019, is expected to replace the Tornado ECRs and also cover the IuWES [Luftgestützte Wirkung im Elektromagnetischen Spektrum (luWES)] Electronic attack requirement that Germany has committed to supply to NATO.
H/T Jens Hameister for heads-up