London: Rishi Sunak cemented his place as frontrunner in the increasingly acrimonious battle to replace Boris Johnson as he and his former cabinet colleague Liz Truss pulled out of a final televised debate amid fears their fierce critics of each other towards others harm the party in the next election.
Sir Graham Brady, the chairman of the 1922 backbench committee which organizes MPs' votes, said Tom Tugendhat had been eliminated, leaving four contenders: Sunak, Penny Mordaunt, Truss and Kemi Badenoch.
Sunak upped his MP vote count to 115, five fewer votes to automatically qualify to make the final two. With Tugendhat's 31 votes up for grabs, Sunak's team hopes to garner the remaining votes needed to do so.
Mordaunt, the generic insurgent, lost a vote on the final ballot after a lackluster performance in the debates. But she still leads her immediate rival Truss, 82-71.
"Penny stalls and backs off," said former Conservative Party leader Sir Iain Duncan Smith. Herald and Age. "Liz has the momentum to go all the way."
Kemi Badenoch, the darling of the right-wing Brexiteer, has done well in all debates but has never been in cabinet and is set to be the next MP to be knocked out.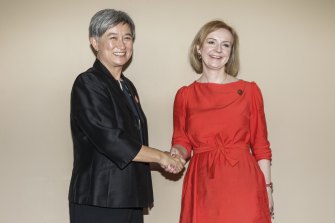 However, his campaign continued to gain momentum with 58 votes. This is likely because the last candidate to be eliminated, Suella Braverman, was also a right-wing Brexiteer and was vying for the same group of votes as Badenoch.
But the long campaign to attract colleagues is weighing heavily on the party. The bitter debates have seen candidates attack each other over trans rights, tax cuts and at times exposed divisions within the cabinet.