Updated at 8:45 a.m. EST:
It began 30 years ago today, Friday August 14, 1992. The disturbance that would become Hurricane Andrew moved off the coast of Africa. The system took 10 days to cross the Atlantic and coalesce into an unimaginable Category 5 storm.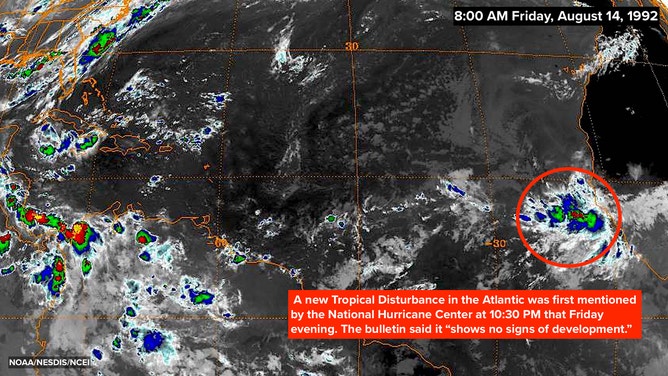 The National Hurricane Center first took notice of the system at 10:30 p.m. Friday. It was a mass of clouds with no sign of traffic. NHC forecaster Richard Pasch noted that the system "shows no signs of development." Which, at the time, was true.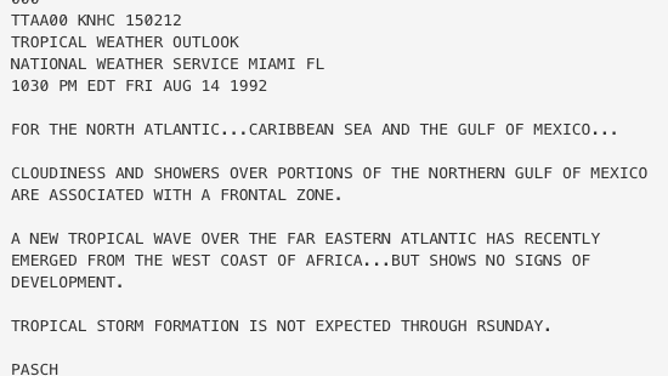 It would take two days over the Atlantic before the disturbance had a defined circulation.
In 2022, the only disturbance on the map is just moving over the South Texas coast. An organized circulation is very unlikely to develop within the system, which would qualify it as a tropical depression.
The threat from this system is the heavy rain expected to fall over the southern portion of Texas. All of Texas is in a drought state, so rain is welcome, up to a point. In some areas, flooding can occur because too much rain falls at once. The threat of heavy rain continues tomorrow.
In the tropical Atlantic, the atmosphere continues to be dominated by dry, dusty air. Nothing is expected to develop this week, which is starting to get unusual. The peak of the hurricane season theoretically begins on August 20.
FOX Weather hurricane expert Bryan Norcross has a podcast, Tracking the Tropics with Bryan Norcross, available now at FOX News Audio. You can get it on your device by click here.