[ad_1]
King Tupou VII agreed to relocate people from his estates that were affected by the Hunga Tonga-Hunga Ha'apai volcanic eruption and tsunamis.
Among the areas most affected by the January 15 disaster were the royal estates of Kanokupolu (Tongatapu) and Mango Island (Ha'apai).
Those affected from Kanokupolu will be relocated to one of the king's domains of Mataki'eua, while the islanders of Mango will be relocated to one of his domains from Tā'anga to 'Eua.
The palace office said on March 14 that the king's two sons, SAR Crown Prince Tupouto'a 'Ulukalala and SAR Both Prince Ata had consented to a similar process of relocating their respective estates from Nomuka Island to Ha'apai and 'Atatā Island to Tongatapu.
Crown Prince Tupouto'a 'Ulukalala consented to the relocation of those affected in Nomuka to higher and safer ground on the island.
Prince Ata consented to move the inhabitants of Atatā Island to an elevated part of his domain of Kolovai (Tongatapu).
The King and the two Princes consented to these relocations on the recommendations of the Ministry of Lands and Surveys during a special presentation to the Royal Family on Friday 4March.
"Work towards relocation processes is being carried out by the Royal Estates Office and the Ministry of Lands and Survey prior to any reconstruction.
"The homes and properties of those affected were damaged by the unprecedented volcanic eruptions in Hunga Tonga and Hunga Ha'apai that triggered the tsunami on Saturday January 15. The tsunami engulfed some of the low-lying coastal areas on Tongatapu and Ha'apai and sent waves across the Pacific Ocean up to 15 meters," the statement from the palace office said.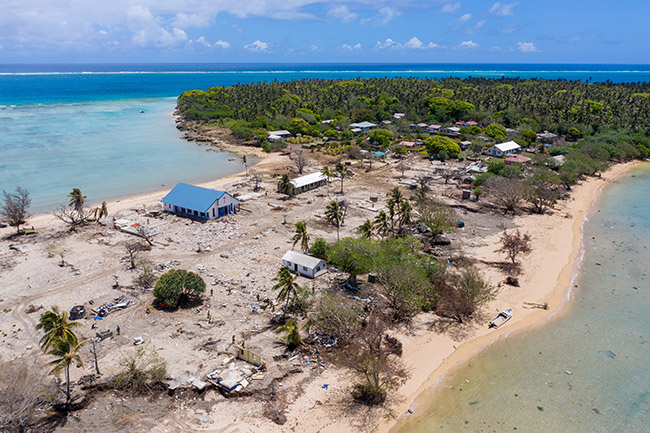 [ad_2]
Source link