MANILA, Philippines — A pink tsunami of nearly 800,000 swept through the country's main financial district on Saturday at the end of a 90-day punitive campaign by the widow who defeated the son and namesake of the late dictator ousted for vice -presidency six years ago, and aiming to repeat the feat for the presidency in Monday's election.
Until the end, supporters of presidential hopeful and vice-president Leni Robredo did not give up a single inch of their spaces of resistance to the return to Malacañang of the dictator's son as they mounted their biggest show of force for the lone presidential candidate.
As of 8 p.m., organizers citing police estimated that 615,000 "kakampinks" descended on Makati City's central business district for Robredo's "advance miting," occupying the stretch of Ayala Avenue and its back roads.
They then estimated the crowd had peaked at 780,000, the largest the avenue had seen since yellow confetti rained down from tall buildings on young urban professionals and members of the business community who massed in outrage against the assassination of Senator Benigno Aquino Jr. In 1983, three years before the dictator Ferdinand Marcos and his family were driven out of Malacañang by a popular revolt.
Pink and green confetti poured out this time, the new colors of the opposition led by Robredo and his running mate, Senator Francis "Kiko" Pangilinan against their main rivals, former Senator Ferdinand "Bongbong" Marcos Jr. and the mayor of Davao, Sara. Duterte.
star
Their latest star-studded campaign rally capped off three months of barnstorming across the country's 17 regions and 68 of the 81 provinces.
Robredo reminded his supporters of the need to prevent the return to power of the family which illegally amassed more than $10 billion during its rule.
"Let's celebrate a historic campaign tonight. Let's go! Let's win this for the Filipino people! Robredo said to deafening cheers.
"Each of you is [living] proof that not everyone slept while history was being written," she said.
Pangilinan praised his volunteers who braved the rains, scorching heat, hunger and even harassment by organizing rallies and carrying out door-to-door campaigns.
He said most of them were students and young professionals, reminding him of his years as an activist and student leader at the University of the Philippines in the early 1980s.
"We will vigorously oppose anyone who dares to rewrite history," Pangilinan said.
The Vice President said everyone must remain vigilant and immediately record and report any irregularities they see on election day.
"Wear whatever color you want. Don't be afraid because there are so many of us," she said. While Robredo remains second to Marcos Jr. in the polls, his supporters are hoping for a big upset on May 9.
One of Robredo's most influential endorsers, Vice Ganda, gave a final speech to rally support for the vice president.
"So many Filipinos work to the bone and fight loyally, but we suffer because we are cheated, treated like fools and dumbed down so that these people can get rich," he said of the traditional politicians. "On Monday, let's all express our outrage."
Actress Anne Curtis and Miss Universe 2018 Catriona Gray made a surprise appearance on the stage set up at the corner of Ayala Avenue and Makati Avenue.
Robredo "is not a leader who comes around very often," Gray told the crowd in an emotional speech. "She is a unique type per generation who can handle change. See how VP Leni inspired us to come out of our homes to take part in uncomfortable conversations and polarizing situations.
"You didn't just campaign, you educated and you helped," she added. "Politics can change our lives but we have the power to change the government."
Election anxiety
Curtis told the "madlang people" that she believed Robredo could lead the country like a mother raises a child.
She urged Filipinos to pray for clean and fair elections as well as "the healing of wounded relationships between friends and families."
If Robredo-Pangilinan supporters were experiencing election anxiety, it certainly did not manifest in their loud cheers for them and their senatorial candidates. (See related story on page A3)
Many, including new voters, camped out on Ayala early Friday evening to ensure they had the best spots for Saturday's rally.
Some new professionals like Michaela Biscocho, 26, believe Robredo and Pangilinan can pull the country out of the pandemic.
A civil engineering graduate from the University of the Philippines, Biscocho said the vice president's impeccable track record and comprehensive platform clearly made her the most qualified presidential candidate.
The fear is real
"Given how the pandemic has affected us, it's important that we elect the right leaders who can find the exact solutions to our problems," she said. "Robredo has shown us time and time again that she can keep her promises even on a meager budget and even in the midst of administration hostility towards her." Robredo's outings often attract young non-voters worried about their future, like 17-year-old Kimberly Fernandez.
Fernandez, who is a high school student, said she had the right to support a candidate who can best protect the interests of young people.
"I'm often told not to get involved in things like that because I'm too young, but I don't agree. I am affected by the decision of the voters. This is my future they are talking about," she said.
Some kakampinks fear a possible Marcos presidency which, ironically, may come on the 50th anniversary of the declaration of martial law, which led to the padlocking of Congress, the muzzling of the press, the mass arrest of opponents of the regime, torture, kidnappings and disappearances of dissidents.
Irene Perlas, a retired businesswoman, said she couldn't even imagine another Marcos returning to Malacañang 'when I spent most of my years knowing the hardships of martial law' .
"Oh my god, have mercy," said his brother Jimmy Sandoval.
Robredo's celebrity endorsers pulled out all the stops for her on her final night of campaigning.
Three actors who had played the role of Darna from Mars Ravelo – Angel Locsin, Iza Calzado and Jane de Leon – led the crowd in a moving recital of "Panatang Pilipino" (Filipino's Commitment), promising to continue to hold the line even after the elections.
"Aking pagtindig, hindi matatapos ngayong gabi. Lahat ng aking sinasabi, tatapatan ko ng pagsisilbi (My stand will not end tonight. Everything I say I will match the service)," they said. "Asahan mong hindi ito ang huli. Hanggang sa dulo, tayo'y magkakakampi (Know this is not over yet. We will be allies until the end).
The crowd, fists raised, repeated the words that reverberated from building to building across the country's premier financial hub.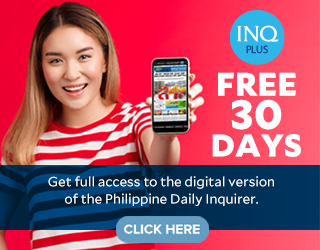 Read more
Subscribe to INQUIRER PLUS to access The Philippine Daily Inquirer and over 70 titles, share up to 5 gadgets, listen to the news, download as early as 4am and share articles on social media. Call 896 6000.