Jacksonville, FL – The next "Buresh Blog" update will be the week of June 13th…. "Talking the Tropics with Mike" is updated daily through November 30th.
Atlantic hurricane season '22 is underway! The season is expected to be active, but ultimately the barometer of a hurricane season is directly proportional to any landfall and the intensity/damage upon landfall. Always be prepared and realize that there will be changes in the forecast – stay up to date!
*2022 Action News Jax First Alert Hurricane Guide *here*
*"Preparing for the storm" *here*
*WOKV "Surviving the Storm" *here*
"Alex" is the first name on the Atlantic list ("Agatha" was first on the Eastern Pacific list and landed as a Category 2 hurricane on Monday afternoon). The names repeat every 6 years, so this year's list includes infamous storms…several of which have been retired. Tropical Storm "Bonnie" (still on this year's list) in 2004 dropped an F-2 tornado on the northwest side of Jacksonville… "Charley" in 2004 (replaced by "Colin" which dropped fall a tornado in W. Duval Co. June 6, 2016) was a mighty cat. 4 hurricane that made landfall on the southwest coast of Fl. near Punta Gorda… hurricanes "Frances" (replaced by "Fiona") and "Jeanne" (replaced by "Julia") struck at the exact same place just two weeks apart in 2004 near Stuart, Florida… "Ivan" (replaced by "Ian") in 2004 plowed in the Fl. Panhandle near Pensacola. "Matthew" (replaced by "Martin") brushed the coast of NE Fl. in 2016 causing damage to area beaches as well as power outages that lasted for days.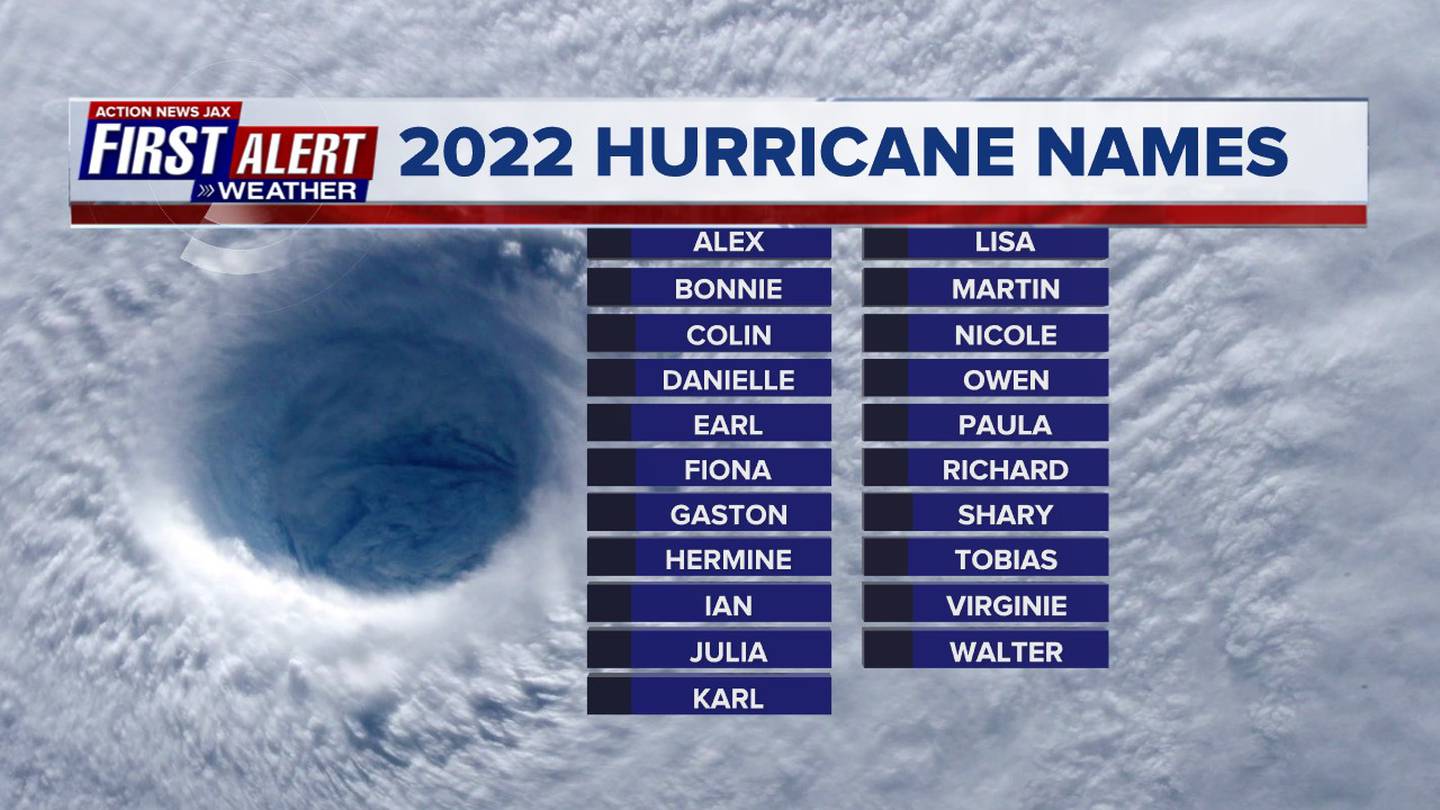 June is here! June marks the start of the NE Fl./SE Ga. "wet season" when more than half of the annual ~53″ of rain falls from June to September thanks to an almost daily active sea breeze + tropical waves, systems and cyclones. The averages of the month at JIA: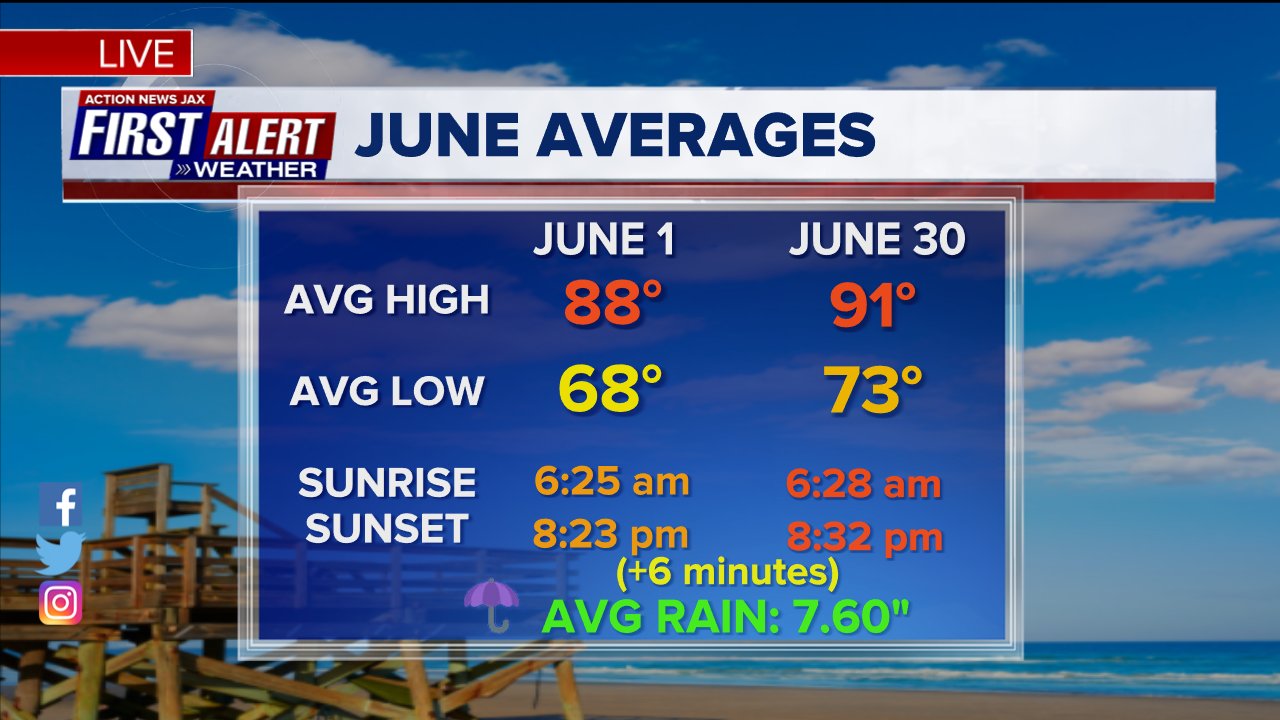 May was a little wetter than average. at JIA… + a little warmer than average.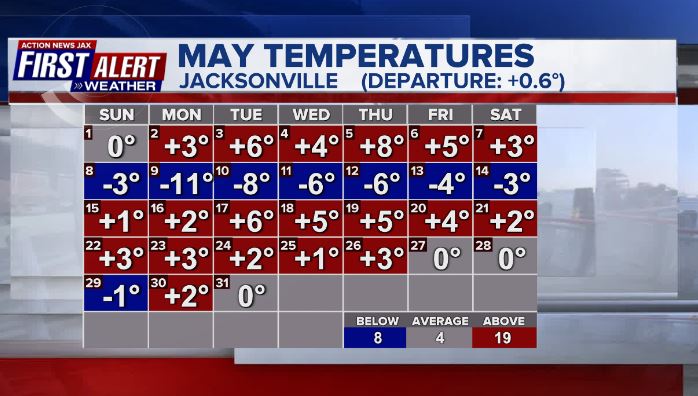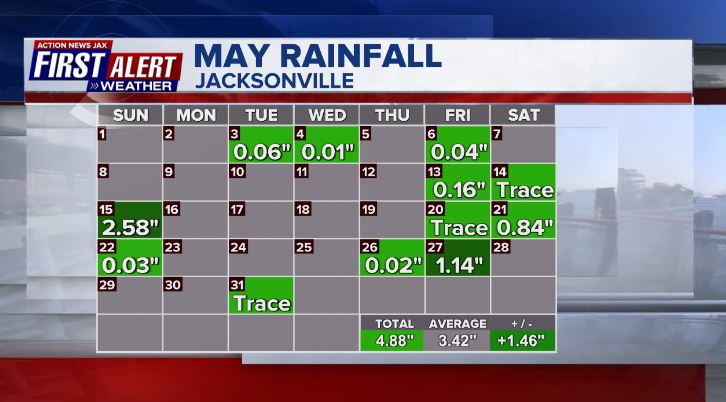 An online tornado survey from NOAA: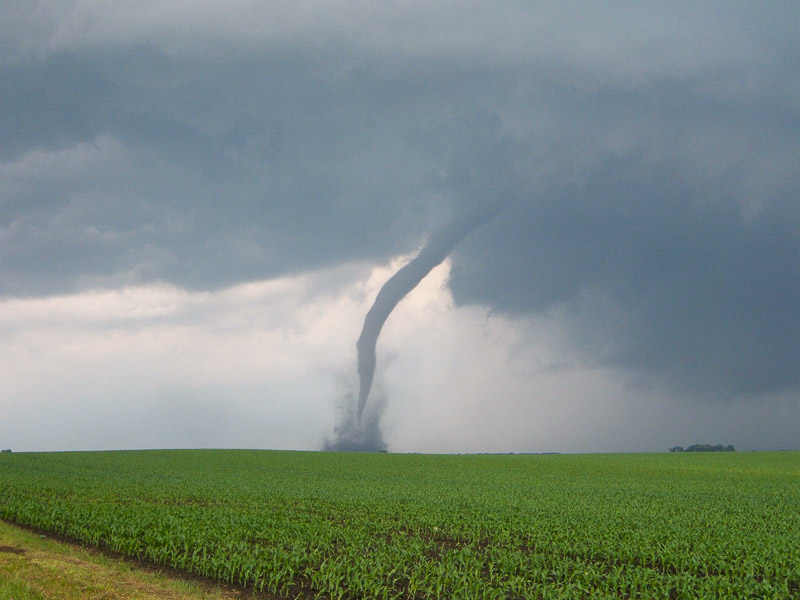 Has a tornado hit your home or community? Have you received a tornado warning? NOAA scientists want to hear your story.
The new citizen science tool Tornado Tales is a online survey which allows people to report their tornado experiences anonymously. Developed by researchers from NOAA National Severe Thunderstorm Laboratory (NSSL), the tool will be used to better understand how people receive, interpret and react to tornado information from NOAA.
The survey asks basic questions to collect information about an individual's responses to warnings and watches, including how they prepared for and monitored the weather and what safe space they used to go. shelter when a warning was issued by NOAA's National Weather Service. This information can help NOAA identify areas where warning messages may not result in the safest and most effective actions. This knowledge will help NOAA refine safety messages.
"While NOAA collects a lot of physical science data on storms from satellites and radar, the weather community has much less information about what people actually do when tornadoes hit," the coordinator said. of the project Justin Sharpe, researcher at the Cooperative Institute for Severe and High. -Impact Weather Research and Operations (CIWRO) working at NOAA NSSL. "We created this citizen science tool so people can come see us and share their stories. This information will help us improve the weather communication used to keep people safe.
"Understanding people's experiences gives scientists a much better idea of ​​where research is needed, whether it's research to improve safety messages or to assess the need for local changes, such as the development of reasonable shelter options," Sharpe added.
Like the sensors meteorologists use to study the atmosphere, Tornado Tales is designed to gather information, in this case about what people affected by the weather are actually doing, and generate a more robust set of observations than currently available. NOAA social scientists.
Information collected by the Tornado Tales tool may also be used by other social scientists, local emergency officials, and NOAA's National Weather Service forecasters to inform research and community engagement activities.
June marks Jacksonville's bicentennial! Back to the weather history: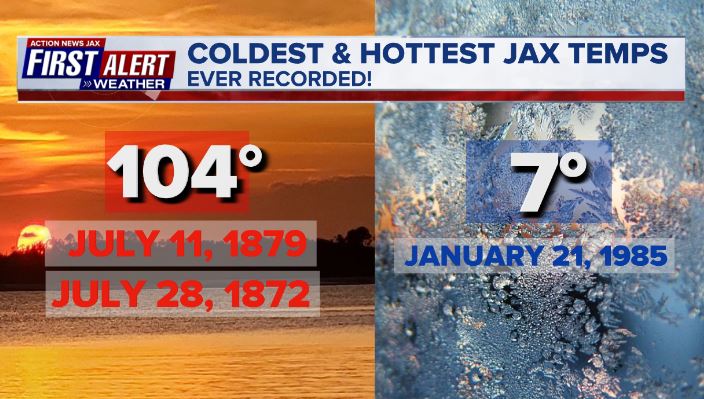 Temp. of Jacksonville. records go back over 150 years to 1871. In a perfect world, the thermometer would never be moved, but that's rarely the case for a weather observing station in the United States. The thermometer has been located at JIA since 1971.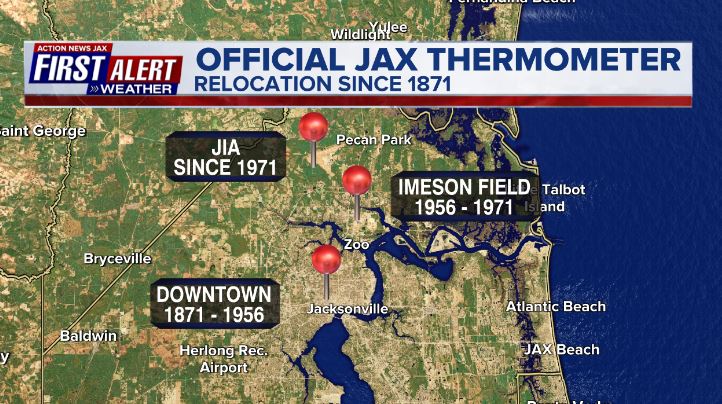 Snow – especially measurable – is a rarity in Jacksonville, but 1.9″ fell on December 23, 1989, making it the only white Christmas on record in Jacksonville. Freeways and bridges were covered in ice and closed, which which caused major travel delays/disruptions. See/read a story from Action News Jax *here*.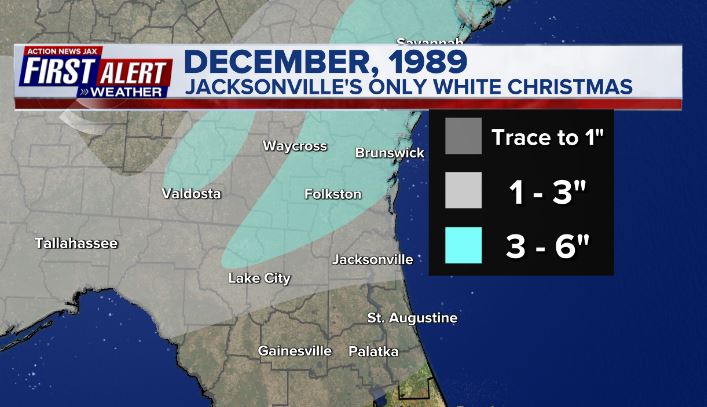 The tropics have, of course, had major impacts on Duval Co. Cat. 2 "Dora" (name removed) in September 1964 remains the *only* direct hurricane eye impact in Duval Co. since the 1870s!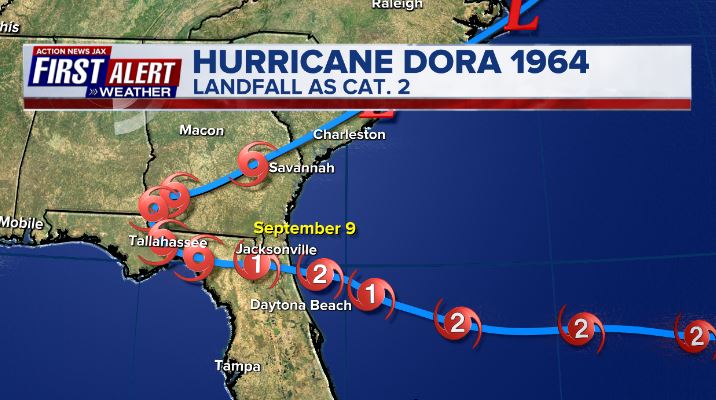 After Dora's wrath, President Johnson traveled to the area on 9/11 to declare a national disaster right after the Beatles played the front again right after the storm! History of the Jacksonville Historical Society *here*…photos below:
Hurricane Floyd moved just east of Florida in September 1999 and caused one of the largest peacetime evacuations in US history. For Jacksonville, Florida, the evacuation was a big failure and resulted in many frustrated drivers trying to drive away from the coast. In the end, Floyd's eye remained well offshore although wave action damaged the Jax Beach pier.
The 2004 hurricane season is known for hitting Florida many times over a relatively short period of time – less than 2 months. Tropical Storm "Bonnie" dropped an F-2 tornado on the northwest side of Jacksonville. Frances and Jeanne made landfall at the same location north of West Palm Beach and eventually drove strong tropical-force winds to Jacksonville, leaving behind extensive damage to trees and power lines that took months to clean up.
The busy 2004 hurricane season hammered Fl. with much damage for Jacksonville/NE Fl./SE Ga. including 1 death in Clay Co. when a tree fell on a teenager. The damage caused by Charley, Frances, Jeanne and Ivan was much more severe in other parts of Fl. #FirstAlertWx pic.twitter.com/q0scJJ4gvt

— Mike Buresh (@MikeFirstAlert) June 1, 2022
More recent tropical impacts occurred with Hurricane Matthew (the eye was 45 miles east of Jax Beach on its closest approach) in 2016, causing major beach erosion at Jacksonville Beach and surrounding areas, followed nearly a year later by Irma moving north/northeast. the Fl. Peninsula causing the largest St. Johns River flood in downtown Jacksonville since 1849!
The eye of Hurricane Matthew never made landfall in Fl. in 2016 but caused moderate to severe damage to NE Fl./SE Ga. beaches…. Irma was an inland tropical storm in 2017 causing major flooding in the city of Jacksonville #FirstAlertWx pic.twitter.com/A7yEQgvYgT

— Mike Buresh (@MikeFirstAlert) June 1, 2022
Jax Beach during Matthew: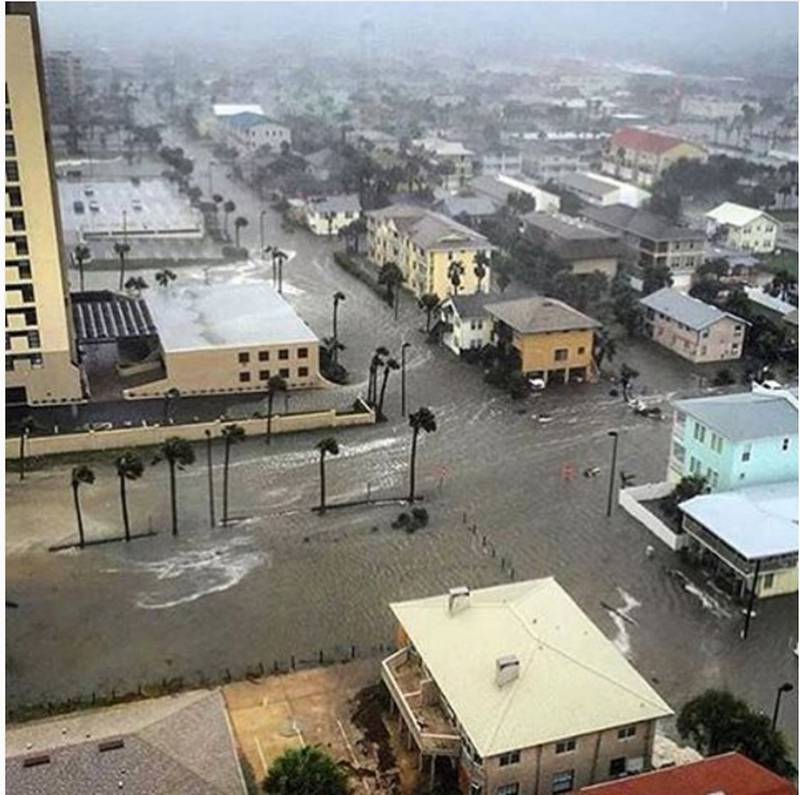 Downtown Jacksonville during Irma: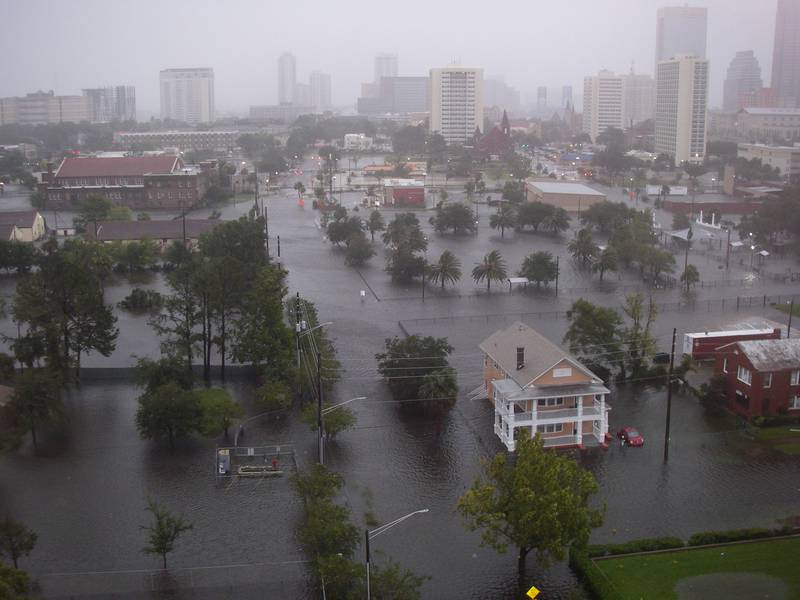 ©2022 Cox Media Group