Italian Air Force F-2000s have successfully completed a mission of more than 8 hours in support of the anti-Daesh coalition in Iraq and Syria.
On April 14, 2022, while on a mission in support of Operation Inherent Resolve (OIR), the United States-led multinational campaign against ISIL in Iraq and Syria, two Eurofighter Typhoon aircraft from the Italian Air Force set a new service record, flying for more than 8 hours on an Intelligence Surveillance Reconnaissance (ISR) mission over Iraq: the longest operational flight to date of the Italian Typhoon fleet.
Four Eurofighter Typhoon jets, belonging to the Aeronautica Militare (Italian Air Force) are currently deployed at Ali Al Salem Air Base (west of Kuwait City), Kuwait, since April 2021, to support Operation Inherent Resolve (OIR), the multinational campaign against Daesh in Iraq and Syria, within the framework of "Prima Parthica", while the Italian army The operation of the forces is doubled at the national level.
The F-2000A aircraft (as single-seat Typhoons are referred to by the Italian MOD Mission Design Series), operates within the Typhoon Task Force under the Italian Contingent National Command – Air in Kuwait, and performs surveillance missions and intelligence reconnaissance using the Rafael Pod RecceLite II.
The Rafael Reccelite reconnaissance pod, integrated on the Typhoon since 2015, is the tactical pod of choice for the Italian Air Force to carry out ISR missions: it is an electro-optical pod Day/ Night capable of providing real-time image collection. It consists of a stabilized turret, solid-state on-board recorder that provides image collections in all directions, from high, medium and low altitudes. The Reccelite reconnaissance pod is used to broadcast live video images via data link to ground stations and to ROVER (Remote Operations Video Enhanced Receiver) tactical receivers within a range of approximately 100 miles.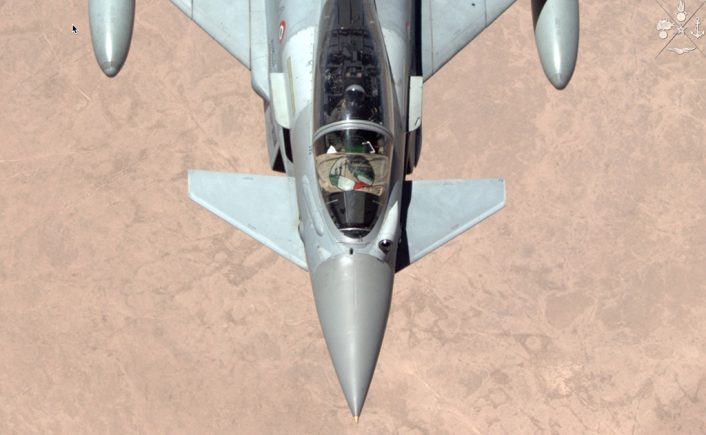 This is not the first time that Italian Typhoons have deployed to Kuwait: during their previous tour of duty in support of OIR, from March 26, 2019 to August 12, 2020, Italian Eurofighters were stationed at the base aerial view of Ahmed Al Jaber (located south of Kuwait City). Other Italian Air Force assets deployed to the region in support of OIR in recent years have been the AMX and the Tornado.
After the first 6 months of their current tour at Ali Al Salem, the Italian Typhoons had completed 1,000 flight hours covering approximately 3,500 targets/points of interest. Besides the operational activity carried out in support of the OIR, the Italian Eurofighters regularly cooperate with the US Army in reconnaissance and close air support exercises on the local firing range, where they cooperate with the JTACs (Joint Tactical Attack Controllers) Americans.